All Day Happy Hour! Looking for the ultimate happy hour destination that offers fantastic deals and electrifying entertainment? Look no further than HaveFun's Downtown East (Pasir Ris) Outlet! We are thrilled to present our exclusive Happy Hour promotion, bringing you an extraordinary selection of beverages at unbeatable prices. Join us and experience a celebration like no other with live music and open mic nights!
All Day Happy Hour Tower Promo – Raise Your Glasses to Great Savings!
At HaveFun's Downtown East (Pasir Ris) Outlet, we believe that every happy hour deserves a spectacular drink selection. Our Tower Promo offers an impressive variety of drink towers at irresistible prices:
Tsing Tao & Soju Tower – $45 Nett/Tower: Embrace the refreshing notes of Tsing Tao beer blended perfectly with the delightful essence of Soju. This dynamic duo promises to keep the good times flowing and the spirits high throughout your gathering!
Heineken & Tiger Tower – $55 Nett/Tower: For the beer enthusiasts among your guests, the classic Heineken and bold Tiger beer come together to create an irresistible combination. Savor every sip of these iconic beers while creating unforgettable memories with your friends!
All Day Happy Hour Spirits Special – Raise Your Spirits, Not Your Spending!
Indulge in a premium selection of spirits at prices that will leave you delighted. Our Spirits Special offers an extraordinary range of choices to suit every taste:
Courvoisier VSOP, Chivas 12YO, or Roku Gin – $99 Nett/Bottle: For those seeking sophistication, revel in the smoothness of Courvoisier VSOP, the richness of Chivas 12YO, or the delicate flavors of Roku Gin. Treat yourself to the finest spirits without worrying about the cost!
Jim Beam – $88 Nett/Bottle: Whiskey lovers, this one's for you! Delight in the timeless and revered Jim Beam at an unbeatable price. Share a toast with your pals and enjoy the warm embrace of this classic whiskey.
All Day Happy Hour Hall Special – Sip, Savor, and Share!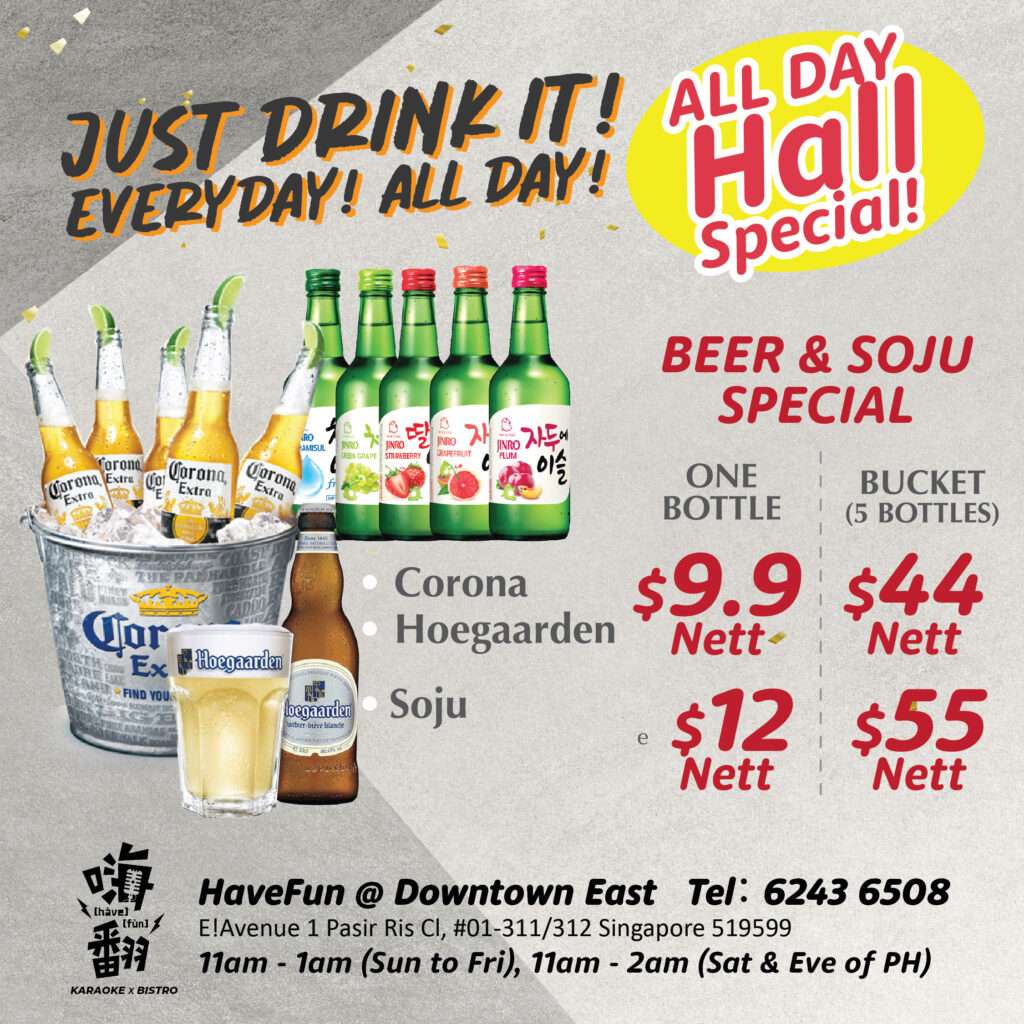 Our Happy Hour Hall Special offers an assortment of beers and Soju at unbeatable prices, making it perfect for gatherings of any size:
Beer & Soju Special:
Corona or Hoegaarden – $9.90 Nett/Bottle | $44 Nett/Bucket (5 Bottles): Beat the heat with the crispness of Corona or the smoothness of Hoegaarden, served at an incredible price per bottle. Grab a bucket to share the joy with friends and create lasting memories!
Soju – $12 Nett/Bottle | $55 Nett/Bucket (5 Bottles): Embrace the Korean spirit and add some excitement to your celebrations with Soju. Whether it's a bottle or a bucket, this classic Korean liquor will elevate the party atmosphere!
Electrifying Entertainment – Live Band on Fridays and Open Mic on Other Days!
At HaveFun's Downtown East (Pasir Ris) Outlet, the excitement doesn't stop with great drinks and fantastic deals. Join us every Friday from 8 PM till late for an exhilarating experience with our talented live band! Their infectious rhythms and soulful tunes will have you dancing the night away.
If that's not enough, on other days, we offer thrilling Open Mic nights where you can showcase your talents or simply enjoy the performances of fellow patrons. There's always something happening at HaveFun's Downtown East (Pasir Ris) Outlet! Check out our live band schedule here.
Karaoke Rooms Available – Sing Your Heart Out in Private!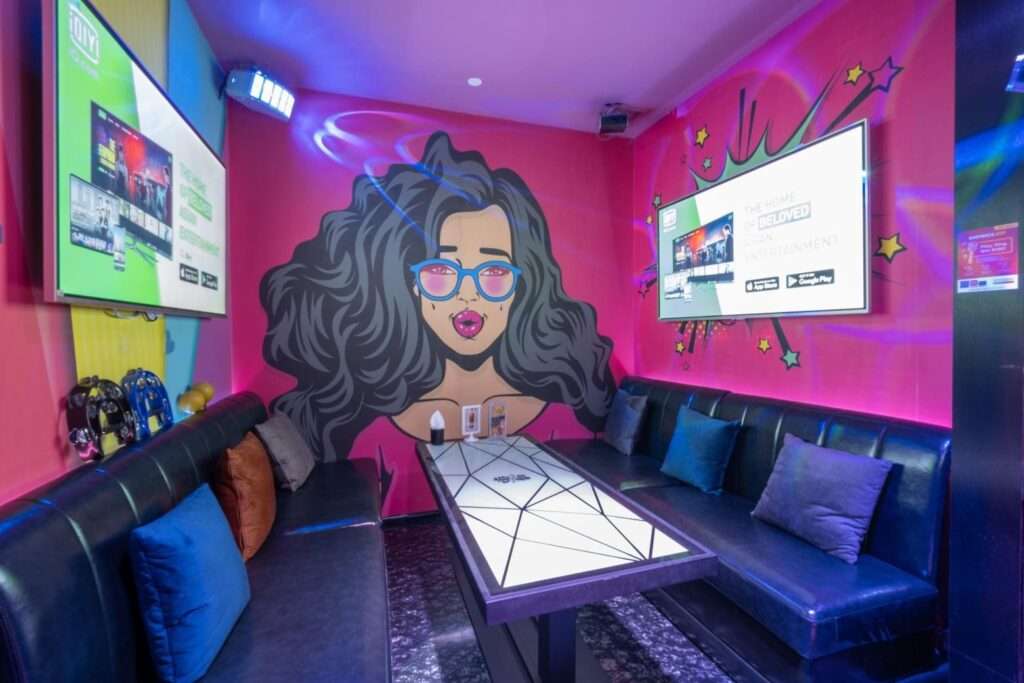 We understand that not everyone feels comfortable singing in a crowded hall. That's why we've got you covered with our private Karaoke Rooms! Gather your closest friends and unleash your inner superstar in a more intimate setting. Sing your heart out and create cherished memories that will last a lifetime.
Visit HaveFun's Downtown East (Pasir Ris) Outlet Today!
Join us at HaveFun's Downtown East (Pasir Ris) Outlet and take advantage of these fantastic Happy Hour deals and electrifying entertainment. Our friendly and attentive staff are dedicated to ensuring your experience is nothing short of extraordinary. Whether it's a weekday wind-down, a weekend gathering, or any time in between, our Happy Hour promotion will set the stage for an unforgettable time.
Cheers to Unbeatable Deals and Unforgettable Nights!
This Happy Hour promotion is exclusively available at HaveFun's Downtown East (Pasir Ris) Outlet, so make sure to drop by and enjoy these incredible offers. Gather your friends, mark your calendars, and get ready for an unforgettable celebration.
Contact Us Today!
📍 HaveFun's Downtown East Outlet
📞 Call now to inquire: 6243 6508
Cheers to amazing Happy Hour deals and unforgettable nights filled with music and laughter! 🥂🎉 (Valid only at HaveFun's Downtown East Outlet)
UNFORGETTABLE CORPORATE EVENTS: SEAMLESSLY COMBINING BUSINESS AND ENTERTAINMENT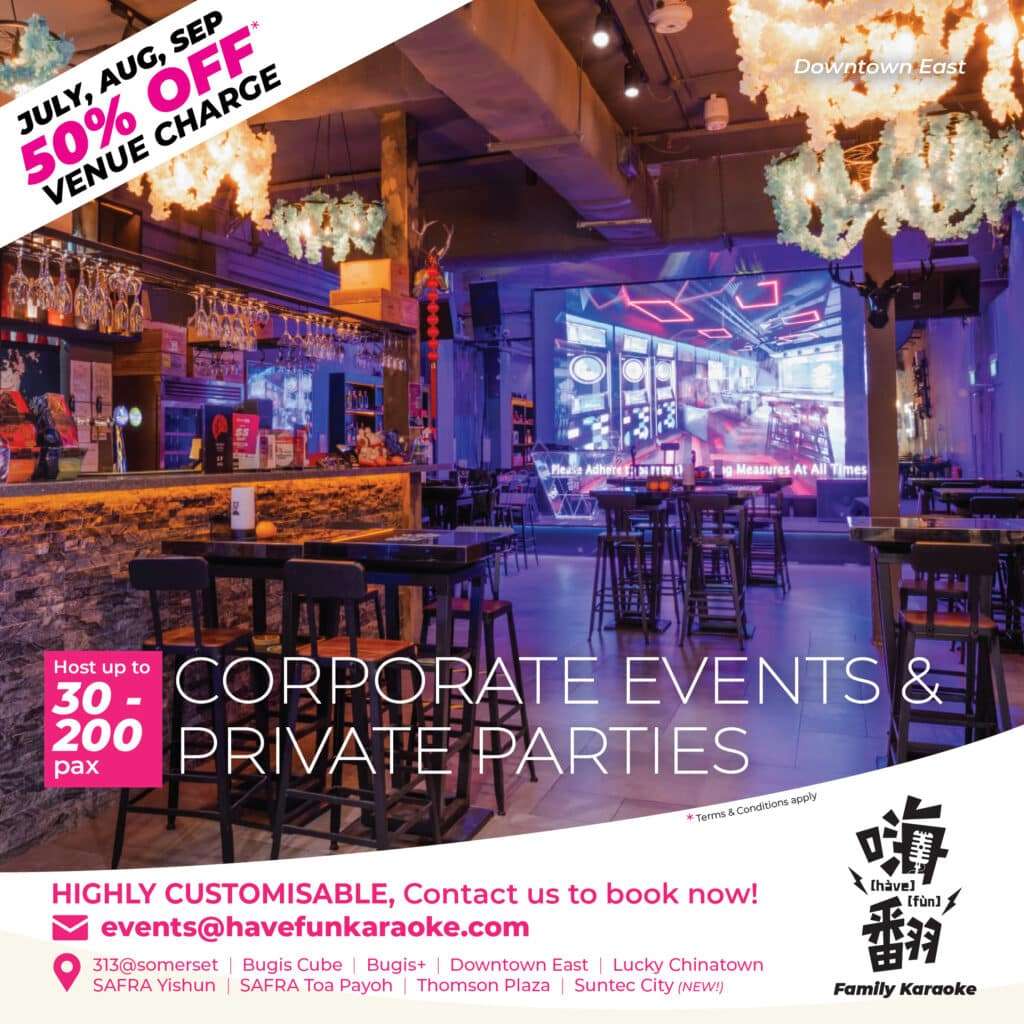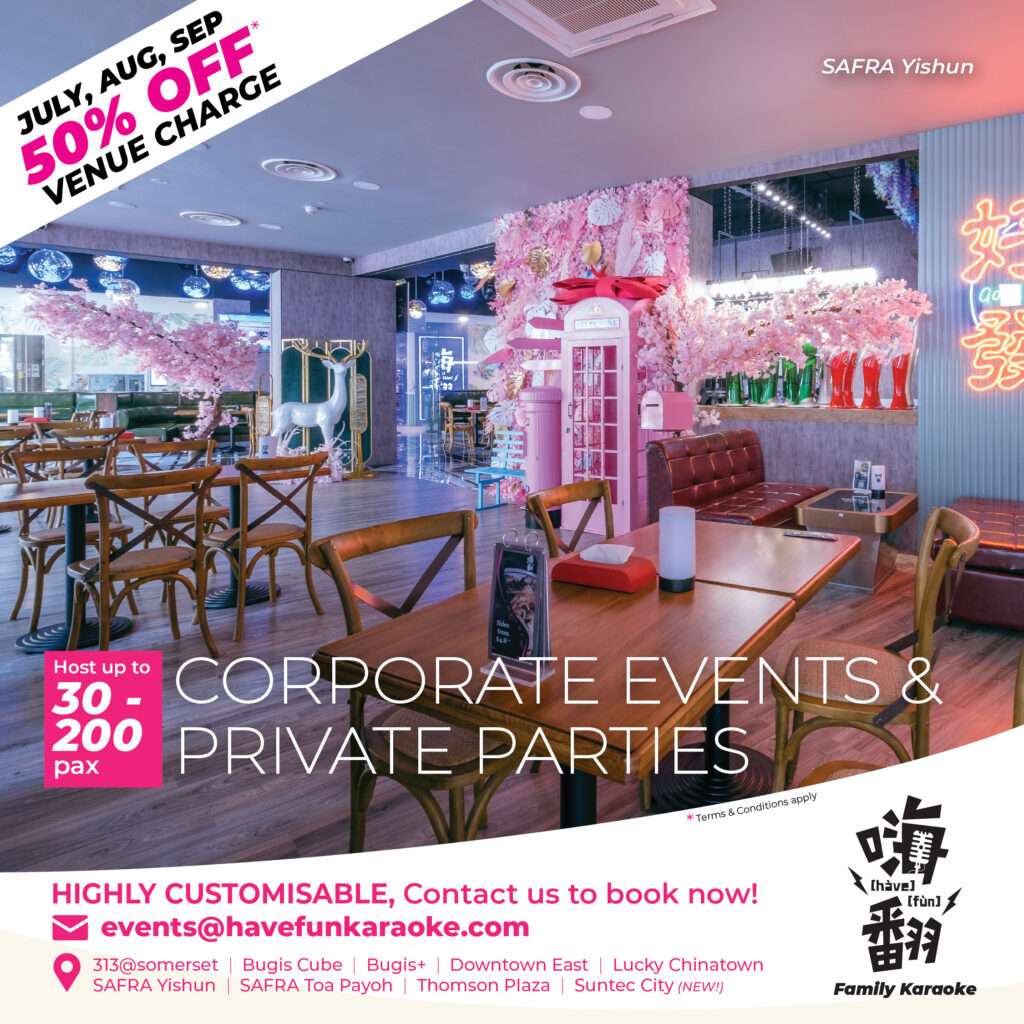 At our entertainment hub, we understand the importance of creating a seamless blend of business and entertainment for your corporate events. Our dedicated event management team works closely with you to curate a customized experience that aligns with your objectives and reflects your brand identity.
From coordinating audiovisual requirements to organizing catering services, we take care of every detail, allowing you to focus on networking, engaging with your guests, and building meaningful connections. Whether you're hosting a formal conference, team-building workshop, or any other corporate event, our team is committed to delivering a flawless event that exceeds your expectations.
For a limited time, we are offering a special promotion for corporate events. Enjoy a 50% discount on the venue charge (excluding karaoke rooms) for events taking place in July, August, and September. Take advantage of this fantastic offer and host your corporate event at HaveFun.
Contact our dedicated events team at events@havefunkaraoke.com or fill up the contact form here for more information and a free quotation.
JOIN OUR KARAOKE COMMUNITY ON TELEGRAM!
For updates, promotions, and exclusive content, join our HaveFun Telegram group. Stay connected with other karaoke enthusiasts, receive the latest news, and participate in special contests and giveaways. To join, simply search for "HaveFun Karaoke" on Telegram or click "Here". We can't wait to connect with you!