Experience the Ultimate Karaoke Extravaganza at Have Fun Family Karaoke's Newest Outlet in Suntec City!
Karaoke at Suntec City with our 9th Outlet Opening! Get ready to have a blast as we proudly announce the grand opening of our 9th outlet. Bring your family and friends and prepare for a memorable karaoke session like no other. Our state-of-the-art facilities, extensive song library, and welcoming atmosphere guarantee an unforgettable experience for all. Read on to discover more about our latest outlet, exclusive promotions, and how to reserve your spot today!
Welcome, to Have Fun Family Karaoke at Suntec City:
We are thrilled to welcome you to our newest outlet, conveniently located at,
3 Temasek Blvd, #03-344/345, Singapore 038983
Nestled between Tower 2 and Tower 3 in Suntec City. Situated in the heart of this vibrant hub, our prime location offers easy access to families and karaoke enthusiasts from all over Singapore.
Prepare to be amazed as you step into our spacious and well-equipped karaoke rooms, designed to accommodate groups of all sizes.
Unbeatable Opening Promo
To celebrate the joyous occasion of our Suntec City outlet's grand opening, we have an incredible promotion that you won't want to miss! For a limited time, enjoy our karaoke sessions for just $9++ per person (min 2 pax). Sing your heart out without worrying about breaking the bank. It's the perfect opportunity to bond, have fun, and showcase your vocal talents in a vibrant and interactive setting.
Exclusive Skewer Promo – Exclusively for Have-A-Pot Menu Items
Treat your taste buds to an exclusive culinary delight available only at our Suntec City outlet. Introducing our mouthwatering skewers from the Have-A-Pot menu! Indulge in these delectable skewers for a mere 50 cents each, allowing you to savor a variety of flavors. This limited-time promotion adds an extra layer of enjoyment to your karaoke experience, making your visit to Have Fun Family Karaoke at Suntec City a truly unforgettable treat for all the senses.
How to Reserve Your Karaoke Session
To ensure you secure your preferred time slot, we highly recommend making a reservation in advance. Simply give us a call at 6970 3686, and our dedicated staff will be delighted to assist you with your booking. For detailed information about our outlet operating hours, please visit our website at https://havefunkaraoke.com/our-outlets/.
Join Us at Have Fun Family Karaoke – Sing, Laugh, and Create Memories
At Have Fun Family Karaoke, our mission is to provide a wholesome and entertaining experience for the entire family. Our Suntec City outlet, situated between Tower 2 and Tower 3, offers a vibrant and family-friendly environment where you can sing, laugh, and create beautiful memories together. With our vast song selection, top-notch audio systems, and comfortable rooms, we guarantee an unforgettable karaoke adventure that will have everyone talking for years to come.
Don't miss out on the opportunity to have a fantastic time at our newest outlet. Gather your loved ones, whether it's your immediate family, relatives, or friends, and head over to Suntec City to enjoy a fun-filled karaoke session at Have Fun Family Karaoke. Take advantage of our $9++/pax opening promo and savor the mouthwatering skewers exclusively available for the Have-A-Pot menu items. We can't wait to welcome you to Have Fun Family Karaoke at Suntec City, where fun, laughter, and great music await!
Unforgettable Corporate Events: Seamlessly Combining Business and Entertainment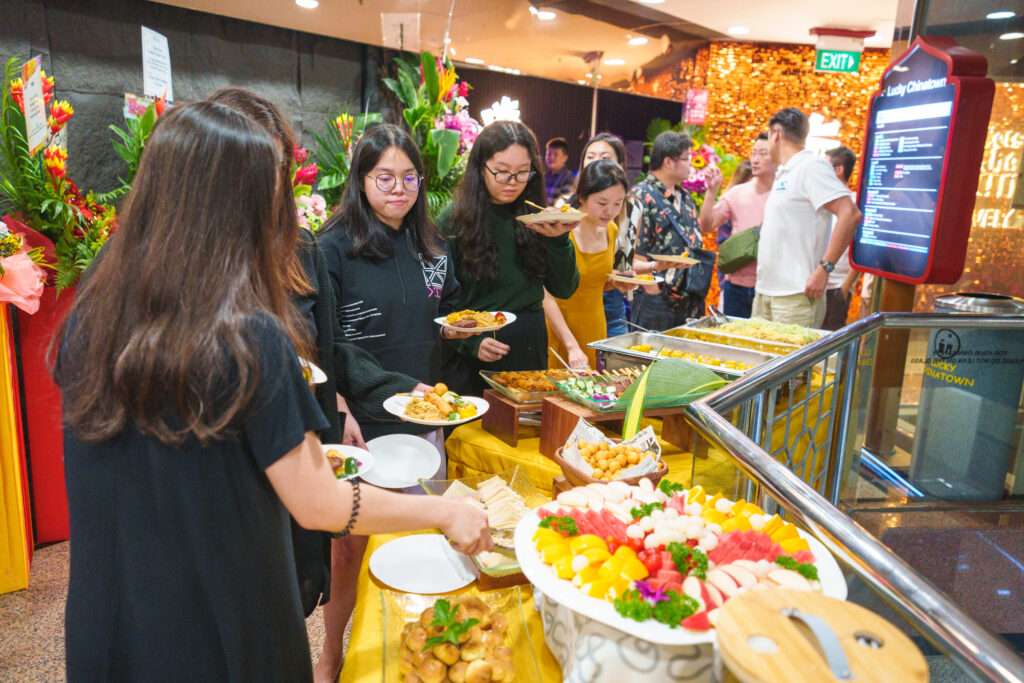 At our entertainment hub, we understand the importance of creating a seamless blend of business and entertainment for your corporate events. Our dedicated event management team works closely with you to curate a customized experience that aligns with your objectives and reflects your brand identity.
From coordinating audiovisual requirements to organizing catering services, we take care of every detail, allowing you to focus on networking, engaging with your guests, and building meaningful connections. Whether you're hosting a formal conference, team-building workshop, or any other corporate event, our team is committed to delivering a flawless event that exceeds your expectations.
Contact our dedicated events team at events@havefunkaraoke.com for more information and a free quotation.
Join Our Karaoke Community on Telegram!
Are you passionate about karaoke and want to stay in the loop with the latest updates, events, and exclusive offers? Look no further! Join our exclusive Telegram channel and become a part of our vibrant karaoke community today.
By joining our Telegram channel, you'll gain access to a wealth of information and exciting perks that will enhance your karaoke experience. Stay connected and enjoy the following benefits:
Be the first to know about new outlet openings and expansion plans.
Receive updates on upcoming events, live music performances, and special promotions.
Get exclusive offers and discounts on karaoke sessions and event bookings.
Connect with fellow karaoke enthusiasts, share your experiences, and discover new singing talents.
Participate in fun contests and giveaways for a chance to win exciting prizes.
Don't miss out on all the karaoke excitement! Join our Telegram channel now by clicking here and be a part of our thriving karaoke community. Sing, connect, and make lasting memories with us. Let's rock the stage together!